Due to unprecidented demand, Musn Grumble is now only available for long term hire.
The Boat
Our dedicated Sheffield Hire boat is named "Musn Grumble"

(Layout for guide only - MUSN Grumble is currently undergoing a refit, see below)
Her specifications are as follows:
54' long, 6' 10" wide (offering access to all waterways).
Semi-Traditional stern (enclosed sides and back with seating, safer for children).
6 Berth - 1 fixed double, plus either 2 doubles or 1 double and 2 single berths.
Comfort Rating:
2 Adults = Extreme comfort, lots of space and storage.
2 Adults + 2 Children = High comfort, good storage.
4 Adults = Fair comfort, privacy of 2 cabins, adequate storage.
6 Adults = To be honest, don't try to squeeze 6 adults in, apart from occasional weekend guests!
Full inventory as our other boats.

(Photograph courtesy of Pete and Jan from Australia who hired MUSN Grumble in 2008 - Perfect Boaters in every respect!)
Musn Grumble is not just our Sheffield boat, she's also our Sheffield boat!  All of our boats have Sheffield made cutlery and quality cooks knives but we've taken this far further with Musn Grumble.  She boasts a newly re-upholstered interior by W F Caudle, a Sheffield upholstery firm established in 1918 and still run by the son of the founder - now aged in his late 80s (actually, the average age of their staff is somewhere near 75!), new curtains and cushion covers made by a Sheffield seamstress, various prints from Sheffield artists, including the renowned George Cunningham, historic photographs of local waterway, new fittings made by a Sheffield foundry, plating by a Sheffield electroplating firm, even the paint is made in Sheffield by by R J Stokes - a world leading manufacturer of quality industrial paints and coatings - we could go on, but reckon you'll have got the idea by now :-)

As a company proud to be based in Sheffield we feel it's important to maintain the quality associated with the name of Sheffield, which is in itself a Registered Trade Mark of The Company of Cutlers in Hallamshire (incorporated by an Act of Parliament in 1624 - who have granted us permission from the Master Cutler to use the name 'Sheffield').  We are also committed to helping promote Sheffield in every possible sense, and we think you'll find Musn Grumble is a superb floating ambassador!
SPECIAL NOTE:
As we also offer MUSN Grumble for long term hire, we're currently (Feb 2010) conducting an extensive refit to the Galley, and also adding an automatic washing machine, lots more storage and worktop space, sink, drainer and a new oven & grill.
The front saloon is also getting severe refit treatment, making the seating more comfortable for 'mulching' and improving the ease of pulling out the pull out double bed. 
The whole front area is also getting some washable Flotex[TM] carpet
MUSN Grumble - photos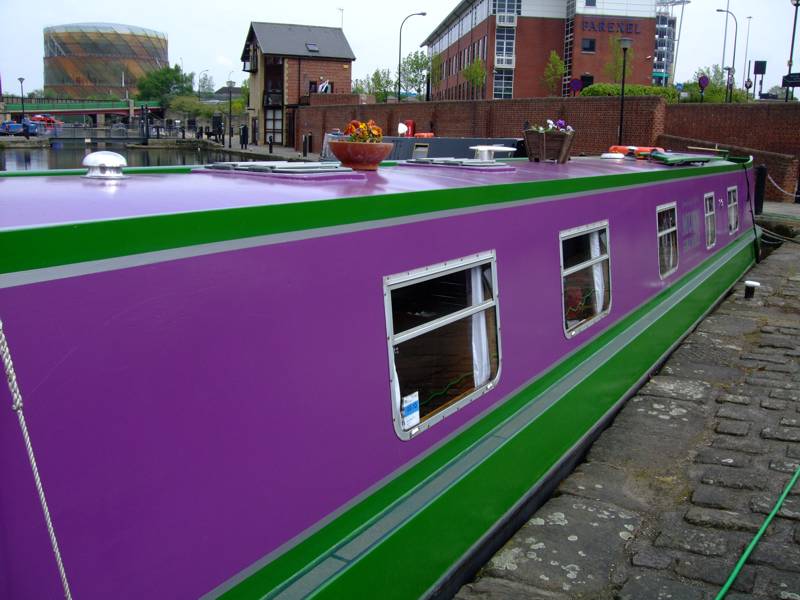 Moored at Victoria Quays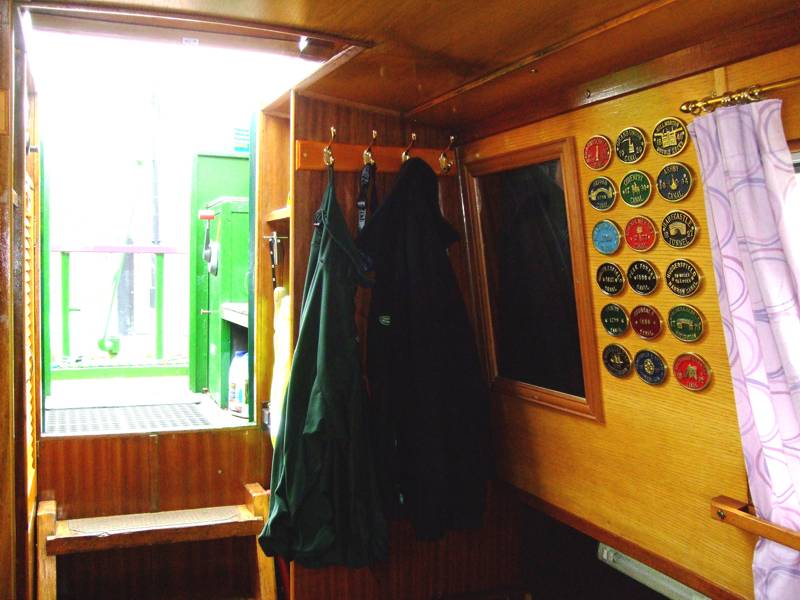 Rear cabin looking on to aft deck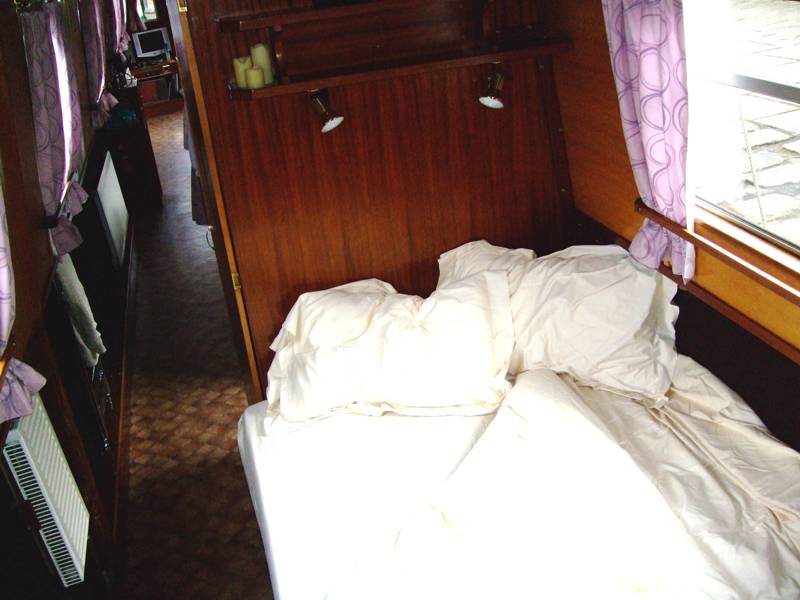 Rear cabin set as double bed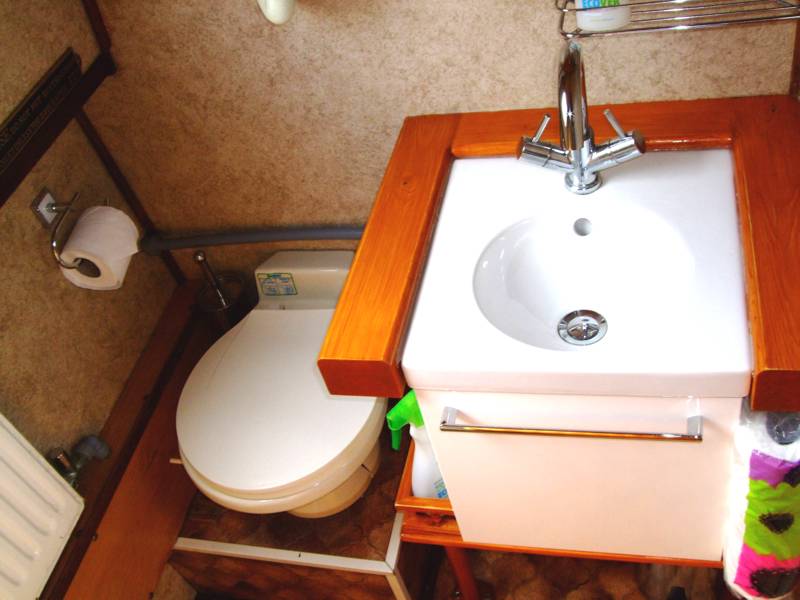 Bathroom with shower (behind camera), toilet, basin and hair-dryer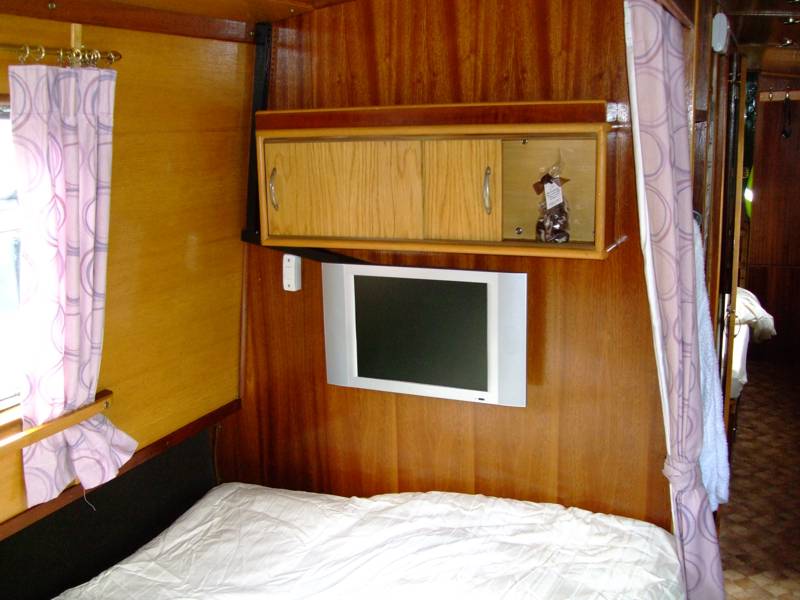 Master cabin, fixed double with TV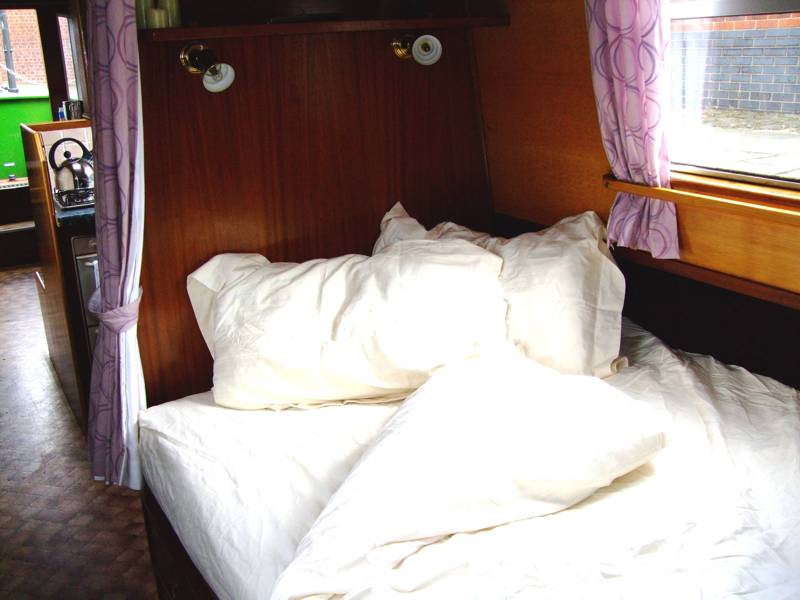 Master cabin - Egyptian Cotton bedding, Memory Foam custom made mattress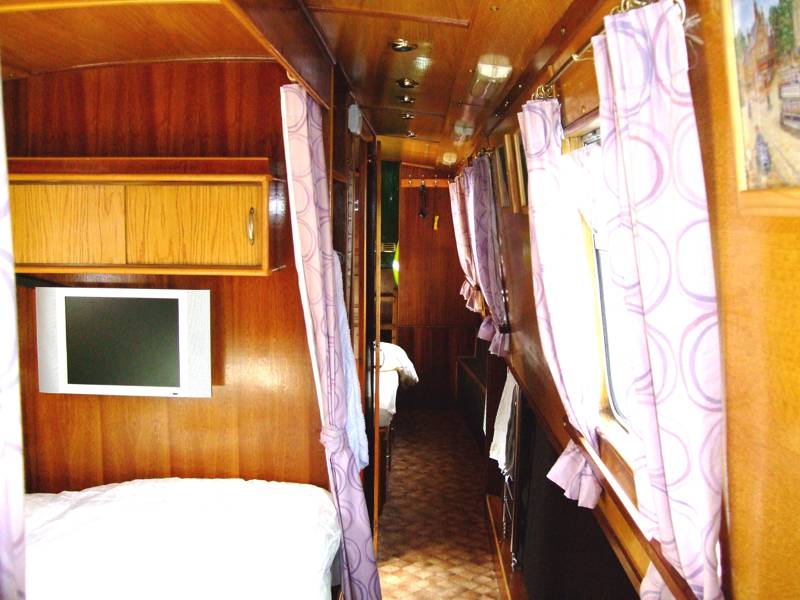 Master cabin looking back past bathroom to rear cabin (privacy door open)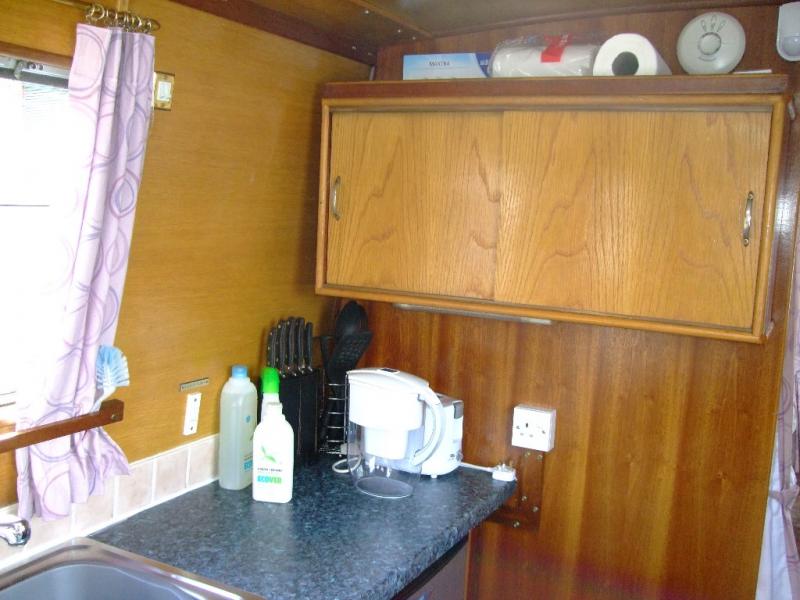 Galley worktops and storage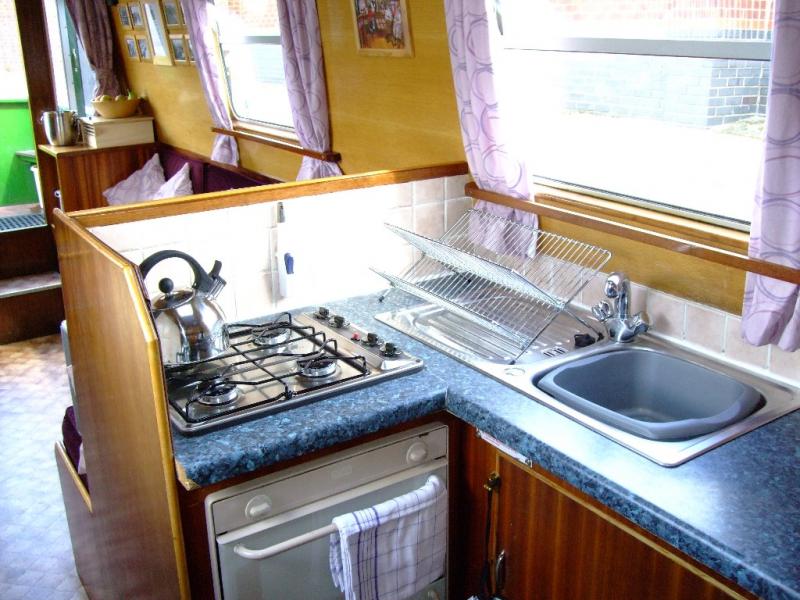 Galley, sink hob, grill and oven - looking toward front Saloon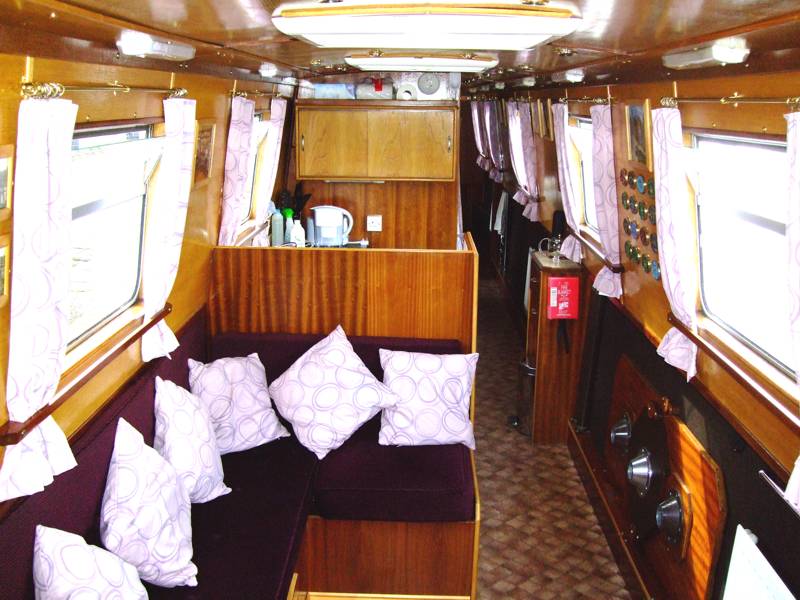 Front Saloon looking toward Galley- roof hatches and screens provide light and ventilation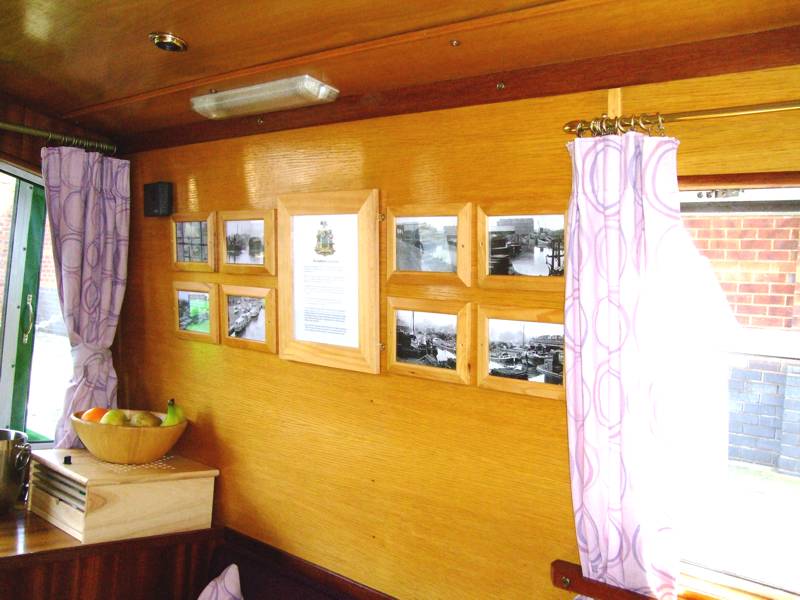 Front Saloon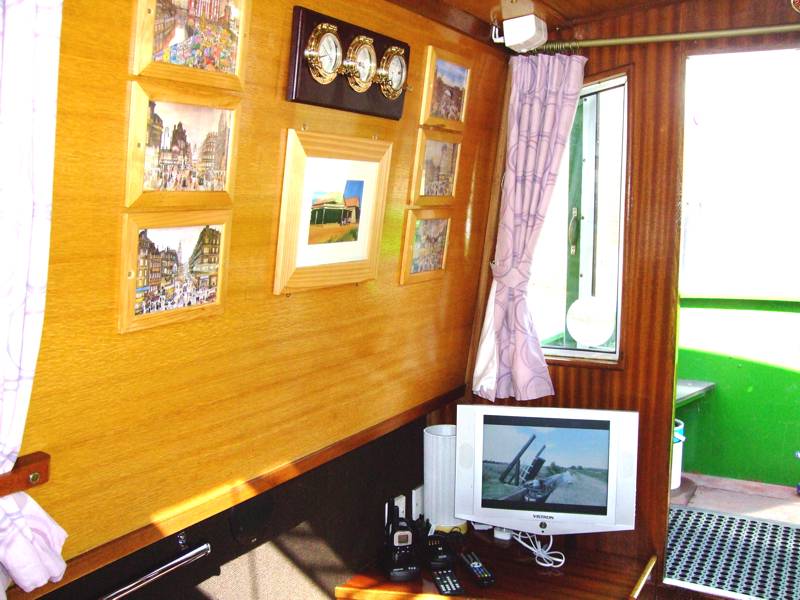 Front Saloon with Freeview digital TV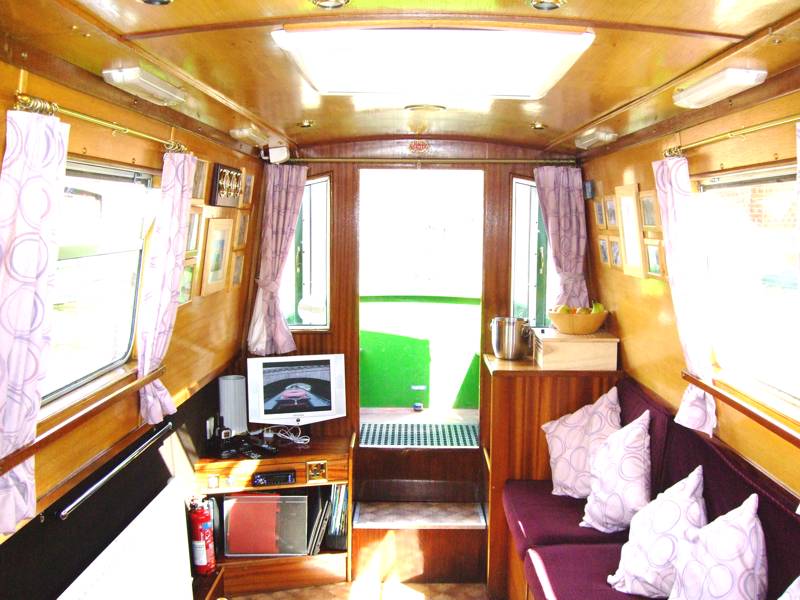 Front Saloon looking onto front welldeck
The Base

Musn Grumble is based at our dedicated wharf on Canal Street, two minutes cruise from the historic Victoria Quays.
Easily accessible by road and rail, being only a few minutes from Junction 33 of the M1 and a short walk from the main Sheffield Railway Station.
Victoria Quays is situated within the heart of Sheffield, a compact, safe and clean city centre offering superb shopping, a wide range of sports, entertainment and leisure facilities (including our two world famous theatres; The Crucible and The Lyceum), spacious parks, Botanical Gardens, interesting walks, Winter Gardens, Galleries, Museums and an incredible range of quality pubs, bars and restaurants catering for every budget and palate.
If you've never experienced Sheffield, we highly recommend you set aside a day or two of your holiday in order to go explore the hidden delights we have to offer - we guarantee that you'll be pleasantly surprised.  We can advise on eating, drinking and entertainment and can book theatres, venues and restaurants for you prior to arrival.
The Journey
Your journey from Sheffield can be as easy-going or challenging as you choose.
Whatever your plans, you will start (and end) your journey by passing through the Tinsley Flight of locks - the top lock being situated by Tinsley Marina, about 60 minutes gentle cruising from Victoria Quays - during which you'll pass a varied mix of pleasant canalside nature habitats and the remnants of buildings giving a glimpse into the past industrial heritage of the Sheffield steel industry. 

(Tinsley Flight - leaving Sheffield) 
The passage through Tinsley Flight needs to be booked at least 24 hours in advance (we can do this for you prior to your departure) and will usually involve a fairly early start.  Passing through the flight is assisted by either Dave or Derek - the British Waterways Lock Keepers - not because it's a difficult flight, but as a means of water management and conservation.  Starting your journey with the "Lockies" is also an ideal way to bring yourself up to speed on the local waterways, their heritage and navigation.  Both Dave and Derek are long time-served custodians of the flight, their knowledge and experience being second to none.
The flight takes around 3 to 4 hours.  As you bid farewell to the Lockie you'll have two more manual locks to work through ("Ickles Lock" by the Rotherham and Sheffield Canal Association moorings, and Rotherham Town Lock by the Courthouse) before entering the start of the broader, commercial River Don Navigation.  An ideal stopping point for lunch is just before the next lock,  Eastwood Lock on the opposite side to the towpath. 
The Journey - to Sprotbrough
After leaving Eastwood and passing along to Aldwarke you'll experience some stunning, wide river sections.  Occasionally you'll see some large commercial working barges and possibly an oil tanker like the Humber Princess, being one of the last commercial inland waterways to benefit from such traffic.  You don't need to worry about the size of these commercial vessels; they're handled by highly experienced Skippers and are very 'narrowboat friendly' (John H Whitaker Tankers Ltd have a website here).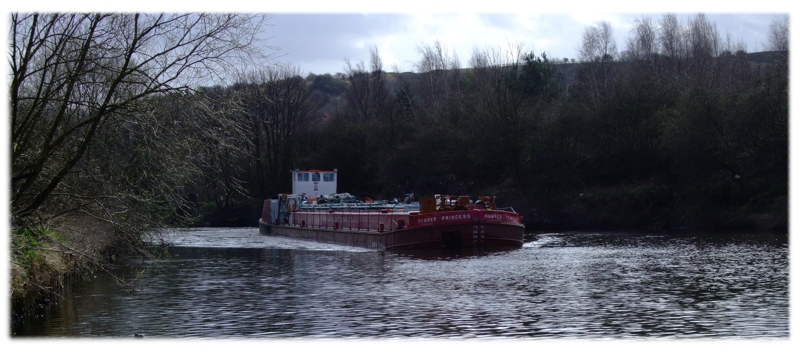 From now on, all of your locks will be automated taking you through canal and river sections, past Kilnhurst Lock, Swinton Lock by the Waddingtons shipyard - builders and operators of some of the huge commercial barges you'll have seen.
An ideal (and recommended) mooring for the night is just before Sprotbrough Lock at the visitor moorings opposite the pub (aptly named the Boat Inn and reputedly serving excellent food) on the towpath.  This peaceful and tranquil site, with the gentle sound of the nearby weir, is perfect to settle down for the night, reflect upon your first day on the Sheffield and South Yorkshire Navigation and plan the rest of your journey.
The Journey - Sprotbrough and beyond
Leaving Sprotbrough and passing on, through Doncaster sees the last stretch of this part of the Sheffield and South Yorkshire Navigation.
Just a few miles beyond the Strawberry Island Boat Club you have a choice at Bramwith Junction: Left up the long straight New Junction Canal toward the Aire and Calder Navigation, or Right, onto the Stainforth and Keadby Canal toward the delightful little town of Thorne.

Depending upon the length of your holiday you can explore many of the undiscovered delights of the Northern waterways.  A two week holiday affords the time to see the Calder and Hebble Navigation, Selby Canal, Leeds and Liverpool Canal, Huddersfield Narrow Canal and Rochdale Canal - to name a few.  We provide a number of maps and navigation guides on board in addition to the on-line resources available from our Library.
The Journey - Returning to Sheffield
Returning to Sheffield after your adventure is as simple as leaving :-)
The only thing you need to plan is your (pre-booked) return passage through Tinsley Flight.
The best strategy is to plan to arrive at Eastwood Lock the afternoon or evening before your return and moor at the visitor moorings overnight.  You'll have around an hour the next morning to get to the bottom lock of Tinsley flight for your rendezvous with Dave or Derek who will again assist you up through the flight, leaving you at Tinsley Marina for your gentle cruise back into Victoria Quays.
The Prices
Musn Grumble is now pretty much just hired out long term due to such high demand.
Long term hire (8 weeks or more) prices start from as little as £600 per week, plus the current rate of Value Added Tax (VAT), which is currently 20%
Musn Grumble may be available for shorter hire out of season.  Please contact us for details of availability.